The Load Management Program, developed by the 14 electric distribution cooperatives in Pennsylvania and New Jersey in conjunction with our wholesale power supplier, Allegheny Electric Cooperative, Inc., lets cooperative members become partners in the effort to control electricity rates. This works by shifting the energy used by residential electric heating systems, electric water heaters, and other electric appliances to off-peak hours. This saves money for all cooperative members in the form of stable rates. Click here to learn more about the Coordinated Load Management System (CLMS) from the Pennsylvania Rural Electric Associations. Central Electric Cooperative (CEC) has two load management programs: managing solely the electric water heater or controlling electric heating systems (with water heater and non-essential electric appliances).
CEC installs demand response units (DRU) on electric water heaters as part of our Load Management Program. The DRU interrupts power to only the electric water heater during periods of peak energy demand. The Load Management Program helps stabilize future power costs to the cooperative and reduces power plant emissions for a cleaner environment.
CEC will install (free of charge) a demand response unit (DRU) on your electric water heater. Members receive a $100 sign-up bill credit for volunteering to participate in the load management program with their water heater. Participants must remain in the load management program for a minimum of two years. CEC will ask questions to determine if your home is eligible to participate. Large households, some mobile homes, seasonal locations, and tanks installed by the cooperative may not be eligible. 
For more information, contact Connie Long, 800-521-0570 ext. 2132.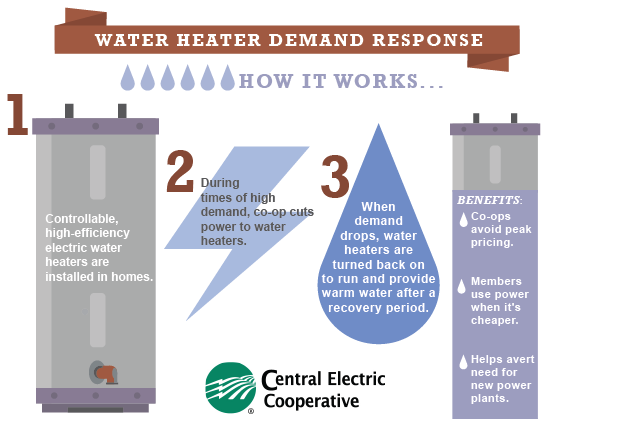 Electric heating systems (electric baseboard, furnace, boiler or heat pump) under load management receive a reduced rate for the energy they use on a second meter. Members must do the following steps to participate in The Load Management Program with an electric heating system:
Use electric heat as your primary heating source.
Install a second distribution panel and service entrance for separate metering.
Allow heating/cooling system and electric water heater to be interrupted during peaks (electric clothes dryer is optional).
Have an adequate back-up heating system (electric thermal storage is recommended).
Back-up Heating System: Member can NOT participate in Load Management for electric heat unless they have an adequate back-up heating system in place. 
Participants in the program can expect our load management control periods when the demand of electricity is at its peak. 
Weekdays only. No weekends or major holiday interruptions.
Common when we experience very hot or cold outdoor temperatures.
Winter: Typically between 7 a.m. and 1 p.m. (morning) and/or  5 p.m. and 9 p.m. (evening)
Summer: Typically between 1 p.m. and 7 p.m.
Hours may be extended as needed. Load control periods may occur twice in one day. CEC can control up to 12 hours in a 24-hour period. 
Members currently participating in Load Management can receive notification of load control periods via email. Please request by calling or emailing clong@central.coop. 
Contact us at 1-800-521-0570 for more information. 
In support of the Load Management Program, CEC also offers a Water Heater Program. This allows members to purchase a professionally installed water heater at a discount. Learn more about this program here.