At CEC, our rates are based on two main components – the actual cost of the wholesale power we buy from the company that generates electricity, and the cost for us to get that power to you. Our power provider, Allegheny Electric Cooperative (Allegheny), sets wholesale power costs. CEC has a seat on Allegheny's board of directors.
As a cooperative, Allegheny works hard to keep rates low, while guaranteeing a stable supply of electricity.  
The second component – the cost for us to get power to you – is all other operational costs, including the cost for poles and lines, the cost and maintenance of trucks and buildings, actual employee costs like wages and benefits, and the costs associated with maintaining records, like the printing and mailing of bills.
One of the biggest advantages of being served by a cooperative is we work only for you; we don't have stockholders expecting a big quarterly dividend. We are a not-for-profit enterprise, which means we're working only to provide you with economical, reliable service. Any money collected in excess of required funds is allocated back to each member account as patronage capital. Patronage capital, or capital credits as they are often called, represents your investment in the cooperative and all its assets. 
Pennsylvania law offers everyone the opportunity to choose who supplies this commodity. At this time, no other suppliers offer generation services to our members. We will notify you if and when other choices are available in both Power Lines and on our website.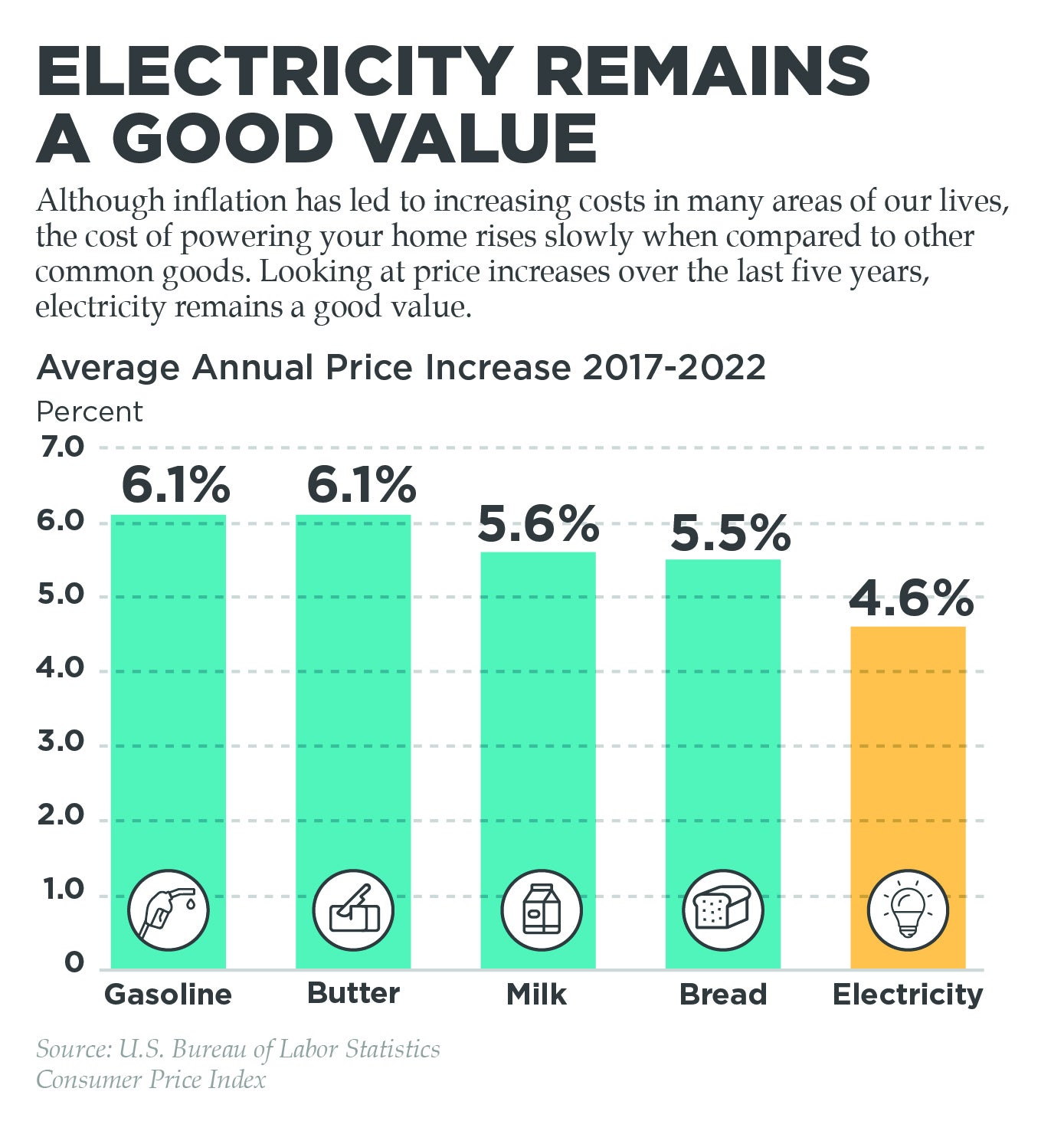 Information as of 12/31/2021
 
| | | |
| --- | --- | --- |
| County | Total Meters | kWh Used |
| Allegheny | 47 | 674,340 |
| Armstrong | 2,022 | 21,293,183 |
| Butler | 9,736 | 166,127,232 |
| Clarion | 4,543 | 44,264,208 |
| Forest | 2,409 | 9,346,831 |
| Mercer | 28 | 444,088 |
| Venango | 6,764 | 66,143,845 |
| Totals | 25,549 | 308,293,727 |
To view CEC's financial statements, please see the August issue of the Power Lines newsletter for the year you'd like to see. 
CEC's rates are net. Bills are due and payable by the scheduled cycle due date. Accounts with an unpaid balance after the due date shall be charged a penalty of one percent of the total overdue balance. In no case shall the late payment charge be less than $1. 
When service is disconnected for any reason other than sale of the property, and reconnection is requested for the same member less than one year after disconnection, the minimum charge must be paid for each month the service was idle. This amount, plus the standard reconnect fee, any unpaid balance on the account, and all other required fees and deposits, must be paid before service will be reconnected. 
If reconnection is requested more than 12 months after disconnection was made, the minimum charge for the idle months is not applicable. 
If member requests removal of the cooperative's facilities from his/her premises, the cost of such removal plus the cost of replacement must be paid if service is to be restored to anyone other than a new owner.